2022 Stewardship Campaign
2021 has been a year of continued flexibility and adaptability for the St. James community. A year ago, the finance committee, elders, and staff held onto hope as we planned simultaneously for a year of respite and for another "unprecedented" year. We had glimpses of both. Together we have weathered 2021 with grace, patience, and prudence.
On behalf of the St. James Finance Committee,
thank you for your stable support.

Your gifts have bolstered our ministry, helped those in need, fostered youth faith development, and brought us together through challenging times. Great things have happened and will happen because we know that we are in this together, giving what we can and trusting in the God who sustains us. Your pledge will help us plan responsibly for our 2022 general operating budget.

Read below about some of the ways the Session and Finance Committee of St. James are looking ahead for 2022!
---

Stable & Thriving Leadership
It comes as no surprise that a culture of collaboration, open communication, coherence, and hard work are vital for a healthy and thriving church staff. Individually and collectively, the St. James Staff consistently demonstrates the skills, flexibility, joy, and humility that enable this community to live out our mission of Loving Welcome, Joyful Practice, and Compassionate Service. More than half of our General Operating Budget goes to compensating our staff appropriately for the valuable work that they do.
In 2022, we are excited to build upon the stability and health of the St. James Staff. This April will mark five years since Pastor Seth began his call in our community. Together with Tracy Caruso (Director of Children & Family Ministries), Luke Arnold (Music Director), Sharon King (Administrative Assistant), and Marina McLeod (Treasurer), Pastor Seth will work effectively and efficiently to carry out the daily ministry of St. James. We are blessed by their leadership and service.
A Buzzing Building
In 2021, we began to see signs of physical life once again in our building. What a joy after many months of physically distancing! Looking ahead to 2022, we anticipate even more in-person meetings, events, activities, and tenant use. Aside from housing many aspects of our life together, St. James also rents space to many important community organizations, including Interfaith Coalition, Bayside Preschool, Hawthorne Learning Solutions, Boy Scouts of America, Alcoholics Anonymous, Grief Support Groups, and more! This year, payments for use of our building account for about 7% of our income. Previously, they made up about 8.5%.
When you pledge towards the St. James General Operating Fund, you help us to run and maintain an important place of worship, growth, healing, learning, and connection that is used around the clock by the greater community. In addition to the monthly expenses to keep the lights on, the heat running, and the WiFi flowing in 2021, St. James was also fortunate to have funding available from interest earned on our endowment funds for important technology upgrades to improve our continued hybrid worship and to replace siding that was in disrepair.
Children & Youth in Action
Children and teens are on the move here at St. James! In recent years, our church has prioritized the mentoring, nurturing, and discipling of our youngest community members. At the heart of St. James' ministry to youth is a commitment to fostering curiosity, engagement, compassion, and service. Vital to this is Godly Play on Sunday morning. This fall we were thrilled to re-launch Godly Play after a hiatus during the pandemic. Godly Play is an imaginative and creative approach to Christian formation and spiritual guidance that supports youth ages 5-12 as they make meaning of their growing faith. Each Sunday, kids get to participate in worship and Biblical story through play, stories, practice, and conversation.
Godly Play, along with Compassion Camp, Nursery Care, Youth Group, and Service Opportunities like the Family Promise Bed Race are among the many important ways that children and youth experience belonging and purpose at St. James. Through all of these initiatives, our youth get to learn and serve alongside adults who love them and care for their well-being. Pledges help us to plan for these programs and enable us to form resilient, compassionate young people!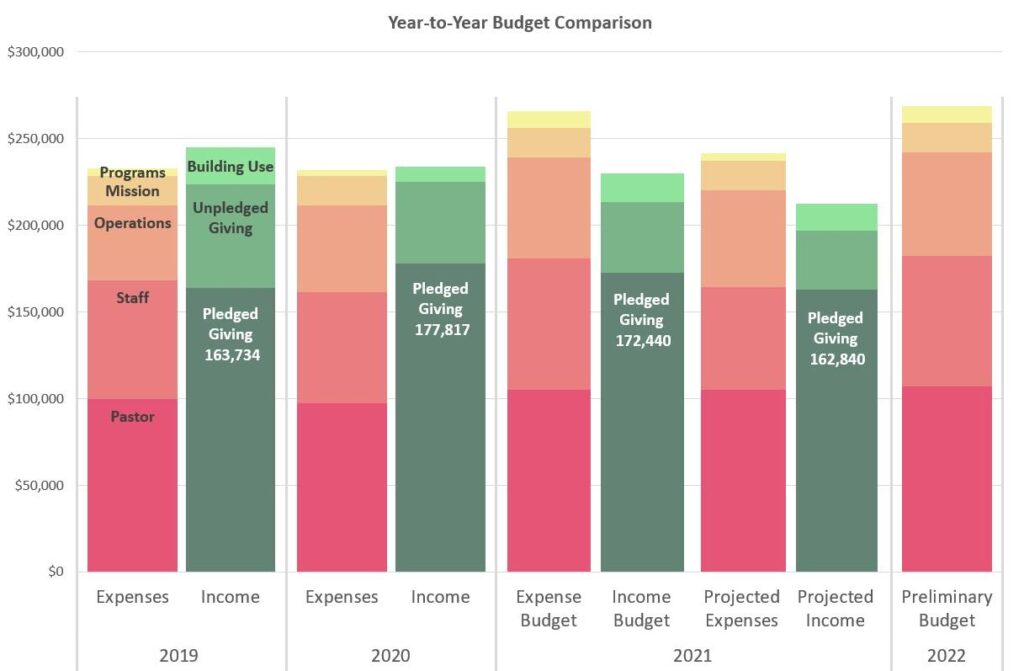 Our Call
Your pledges and contributions make possible all of this and more. Thank you for taking time to reflect on how you will be able to support St. James' mission in 2022.
Please consider a commitment to our pledge campaign
and return your pledge form by October 31.
Have questions? Contact our Finance Committee chair, Lindsay Anderson (lindsaynicole12@gmail.com) or our treasurer, Marina McLeod (stjamestreasurer.bham@gmail.com).
Pledging & Giving online
Along with pledging online here, http://www.tinyurl.com/StJames2022, gifts can be made to St. James Presbyterian Church, 910 14th Street, Bellingham, WA 98225. You can also give online here.