2021 Stewardship Campaign
Read below about some of the ways the Session and Finance Committee of St. James are looking ahead for 2021! You can pledge for 2021 online right here: 2021 Pledge Form – Google Doc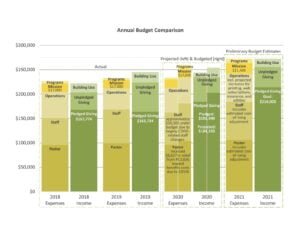 Solidarity & Stability
Our staff, session, deacons, volunteers, and congregation have all demonstrated resilience as St. James continues to thrive despite an incredibly disruptive season. This year, we have welcomed new members and regular visitors as we continue to worship and connect in meaningful ways. Even as we shifted to 'physically distanced' settings, our values of Loving Welcome and Joyful Practice for youth and adults of all ages have adapted. We have experienced stability in pledges and giving during 2020, allowing us to continue to fully fund not only our staff and our facilities, but also to uphold our commitment to Compassionate Service to those in need and to our environment.
On behalf of the St. James Community, thank you for your stable support, which allows us to stand in solidarity with one another, remaining resilient through tough times. As you consider sustaining an existing pledge, or making a new one, we hope you will prayerfully consider a few important commitments for the coming year.
Beyond COVID – Race and Equity Work
The year 2021 is an opportunity for us to learn more deeply and act more purposefully when it comes to race and equity. Recently, St. James was awarded a $5,000 'Beyond COVID' grant from the Northwest Coast Presbytery towards this ongoing work. In response, the session plans to offer a matching grant to support learning materials and training for our staff, leadership, and community. As we look ahead, we hope that this is just the jumpstart to sustained commitment to practicing social justice and loving welcome to all.
Benevolent Giving
As those within and outside our congregation continue to adjust to the impacts of COVID-19, our session hopes to restore St. James' overall percentage of benevolent giving from its current 8% back to 10% of pledged giving. This increase would help our Mission and Social Action Committee partner more strongly with our community. In 2020, St. James provided significant financial support to Interfaith Coalition, Lighthouse Mission, Habitat for Humanity, and the Bellingham Food Bank as well as to several other important agencies such as Skookum Kids, Whatcom Peace and Justice, DVSAS, and others.
Connecting in New Ways
2020 has been an invitation to explore new methods of connecting and gathering. Looking forward to 2021, St. James has an opportunity to strengthen and expand our use of technology. Through remote Sunday worship, daily prayer, book studies, phone calls, e-mails, handwritten notes, 'Zoom' youth group, and even a virtual VBS, we have offered vital avenues of connection during a time of 'disconnect.' Even as we again gather in-person, we see technology upgrades as a way to increase accessibility to our community for many.
Thank you for taking some time to consider a commitment to St. James for 2021. Please return your pledge form by November 1 and contact Marina McLeod (stjamestreasurer.bham@gmail.com) or
Lindsay Anderson (lindsaynicole12@gmail.com) with questions.
Giving online
Gifts can be made to St. James Presbyterian Church, 910 14th Street, Bellingham, WA 98225. You can also give online here.