A Home for ALL!
Welcome to St. James Presbyterian Church! We are a profoundly welcoming, open and affirming Christian community, located in the South Hill neighborhood of Bellingham. From our hillside perch overlooking historic Fairhaven and Bellingham Bay, we gather together each Sunday to worship God and find ways to respond to the needs of those around us. With 130 years in Bellingham, we have a long tradition of social justice and earth care engagement. We don't pretend to have all the answers to the injustices that surround us, but we work hard to listen, to learn, to be an ally and to be present to how God is leading us to respond as Christians. At St. James, we want everyone who enters our doors to feel welcome—just as you are—and to feel like you have a home in our community.
We invite you to join us for our weekly Sunday worship service at 10:30 a.m. Please note that due to COVID-19, our weekly worship service is now live-streamed via our website at www.saintjamespres.org/live and the St. James Facebook page at www.facebook.com/saintjamespres.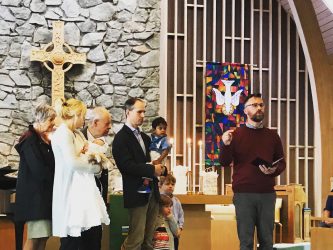 Welcome! God is moving, in our city, in the neighborhood, and in our gathered life together. We are a group of people seeking to follow after God, looking for ways to serve and partner with the work of God's reign already at work all around us. We hope you'll join us, to worship, to serve, to be peacemakers and people of hope! We don't have it all figured out, but we are journeying together, sharing loving presence in the neighborhood and faithfully serving in the world.
– Pastor Seth J. Thomas

A Message from the Church Reopening Task Force Let's face it; some of us are feeling a little Zoom fatigue. It might have been necessary and even amusing in the early stages of the pandemic ("We can't hear you; you're on mute!"), but you may be itching for a touch of "normal" at this point….